There are two kinds of statements you hear or tell yourself. These are lies and truths. Let's identify what they exactly are.
Lies
You're hopeless. You're stupid. You're not enough. Others are better than you. Others can do it better. You don't have enough money/skills/courage/ to do it. Why should you do it, it's selfish. You're better doing something more productive than that. You better sacrifice yourself to your family/friends/work.
How many times did you hear this? How many times did you say that to yourself?
Hmm, that's what I thought… This is what I was telling myself sooo many times and I know, you are doing the same, at least sometimes. Did you know that these are lies? Lies that we heard from someone and lies that we, somehow, acquired from others and tell ourselves so often.
Truth
I tell you something. You are not hopeless, you are not stupid, there is no better person than you – we are all equal. You are enough. You have enough of everything what you need, to make your travel dreams to come true. You are the daughter of the King – a Princess – the most wanted and loved person in the whole world. You are one in a million. You don't have to sacrifice yourself, neither you are selfish. Cos, don't break your relationships, leave your husband, family and friends behind. You don't have to! You can find the way around that. Yes, you can have family and still travel the world and you don't have to do it together. It's hard, but it's totally doable. Even if you work full/part time.
I know it's sounds crazy and impossible, but this is the truth.
It will take time. You may not be able to follow all of your dreams at once, you don't have to.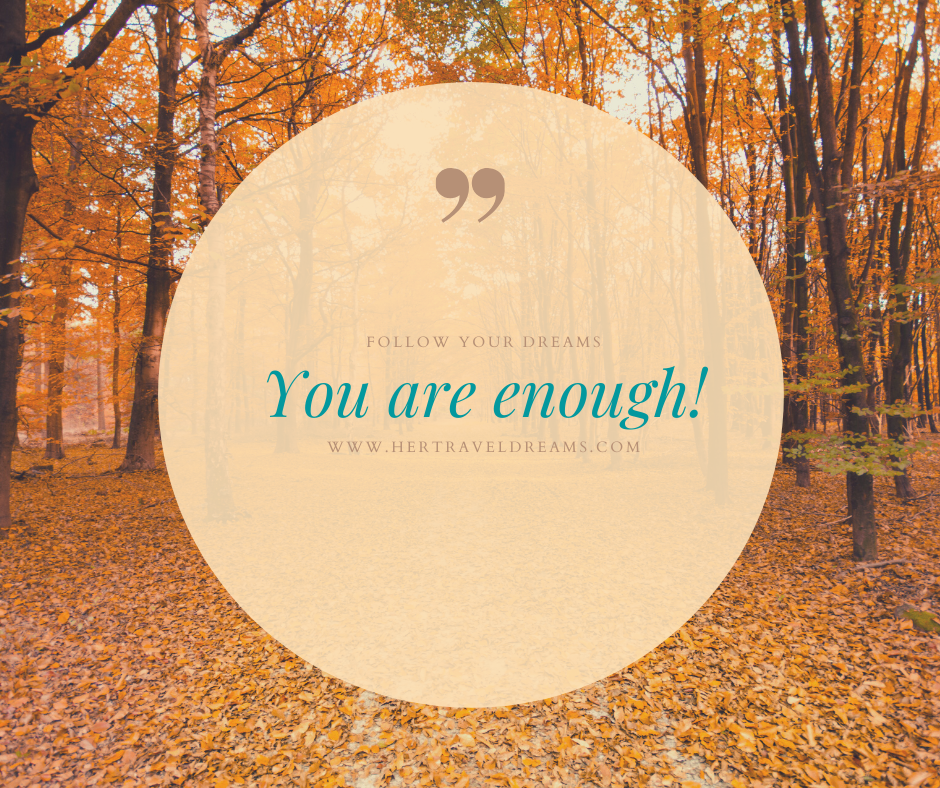 How to start?
If you really want to travel the world, why not start simple? Why not start from your doorstep? You may be surprised what you can find there. Believe me, there are people who dream about visiting your home country. The world is changing. So is changing where you live. Get to know it better! Then you will be able to grow bigger. I mean, travel further and far away. By doing it this way you will be able to gain skills, courage and possibly save some money to go on bigger trips and living your dream at the same time.
So from now on, encourage yourself to follow your travel dreams:
keep your mind occupied with positive thoughts,
smile often – smile works better than 4000 bar of chocolates
read travel blogs to be constantly inspired,
listen to wise and positive people,
join travel supportive groups (for example this one) – the ones dedicated to women are marvellous,
be thankful for everything you have, even if it's only a little
This last advise is super important. If you can't be thankful for what you have, how can you get more of that? The other advantage of that is the fact, that being thankful sets your mind in positive vibe and make you happy. I know, being happy might be more complicated. But try to be thankful for everything that is happening in your life – even if it's difficult- just for couple of days, and you will most probably see the big change in your mindset. The right mindset is crucial for you to follow your dreams.
Last piece of advice
Remember one thing: dreams don't come true just because you dream, they become true, because you work hard for them.