Let's get started!
"Each of our dream is given to us, with all the strengths needed to make our dreams to come true."
– Richard Bach-
I believe in dreams, I believe that it is possible to make them happen, whatever they are. They won't magically come true, you have to work for them. Often you will have to work hard and tirelessly, as everything what is valuable in life, won't come easily.
I know it doesn't sound appealing, but I won't lie to you.
"Following your dreams has its price. You may have to change your habits, go through tough times, experience disappointment. But it doesn't really matter how high the price is. It will always be lower than the price of someone who never took the risk. One day she will look back and realise, that she has wasted her life."
– Paulo Coelho-
A bit of science
If you are ready for the hard work, let's start with the basics.
If you want to make your dreams to come true, you need to know what they are. It's super important to write all of your dreams down! If you write things down, you increase possibility to make them happen by 42%. Can you believe? 42%!! That's a lot! When you write your dreams down, you can also track what happens with them, how many of them you have ticked and basically, at what point you are.
To encourage you to do it, I wrote my own bucket list. Bucket list is actually what the list of dreams is called.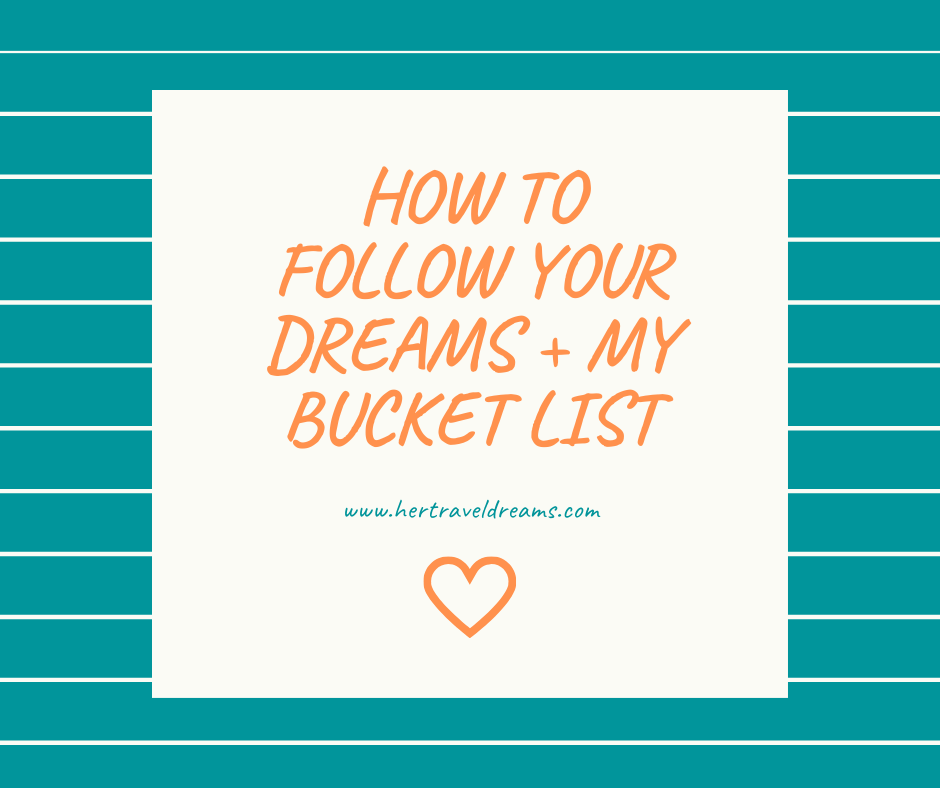 My bucket list
Living and working in English speaking country – UK from December '10 till April '17 + January '20 onwards, but part time
Take a part in ITB Berlin – The biggest Travel Trade Show in the world – March '15
Cuba – a month of wandering through out the island – February '16
Taking part in Travel Festival called "Trampki" in Gdańsk – April '18
Great Crown of Beskid Mountains – started in June '18
Visit to Mazuria Lakes District – July/August '18
More travels through out Poland – Białowieża District
Camino de Santiago (from my doorstep to Santiago de Compostella – 3585km)- with my Mum if possible – started July '19
Taking part in Tbex conference – scheduled for March '20 (rescheduled due to Covid-19)
Second trip to Cuba, but this time with my hubby
Going on survival school
Australia & Tasmania
Asia
Africa
New Zealand
Trans-Siberian Railway journey
Trekking in Machu Picchu
Motorcycle trip through 66 Rout
Travelling around the world with my family
New Year's Eve "at the end of the world"
Learning Spanish
Learning Cuban salsa to advanced level – on hold as my group fell apart
Balloon flight
Parachute jumping – have done it already couple of times when I was 16, but I want more 😉
Running one of the most popular travel blogs that empowers millions of women to make their travel dreams to come true –
Writing and publishing travel books
This is my list. It may change as some of my dreams may evaluate. I will update it when it happens. So here you can see what I'm up. Maybe this will inspire you to write your own Bucket List and do all the work necessary to make your travel dreams to come true.
Final words
You need to know that changing dreams into plans, most of the time, won't happen over night (however that's also possible and my Cuban trip is proof to that). Often you need to take one dream at a time, turn it into plans and plans into reality. I know that you may think, that turning travel plans into reality, involve breaking the bank. But that's the myth. You don't need to have a lot of money, you just need the knowledge of how to use them wisely and start small. Of course! You need money, but not millions from a wealthy uncle or your credit card. You can earn all of them through your hard work.
Planning and acting according to your plan is the key to success.
Is there anything else that's stopping you from working towards your dreams? If so, please let me know in the comment below or via e-mail and I will do my best to address all of your fears.